Become part of a great elite coaching family tree.
Coaching secrets are passed down over time from one elite rowing coach to the next.
Have a look at the above short movie and see how I got recruited to Brown University and won Olympic gold and silver.  I could not have done it without the help of some of the most amazing coaches.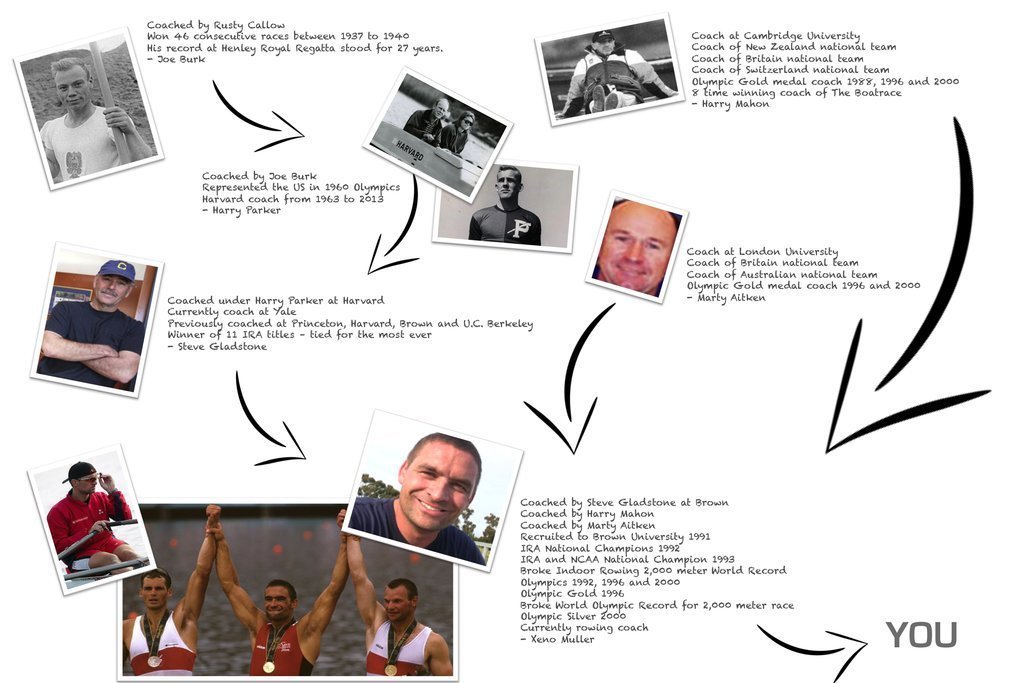 1. The Conibear Root/USA
Hirma Conibear
Rusty Callow
Joe Burk
Harry Parker
Steve Gladstone: I was recruited by him to Brown University. We had undefeated collegiate seasons.
2. The Tonks Root/NZ
Alan Tonks, father of Richard Tonks and friend co-coach with Harry Mahon.
Harry Mahon/ Richard Tonks.  Harry Mahon taught me how to row efficiently and maximize power.  With him I won Junior World Championship Bronze.  Won the Crash-B indoor rowing world championship setting a new world record 7:42.1/2500M. Under his coaching I became one of youngest single scullers competing at the Olympics 1992.
3. The Aitken Root/AUS
Marty was instrumental to my Olympic gold and silver medal in the single scull.  He had great experience coaching for the British National Team prior to working with me.
4. YOU: It is time to join the elite coaching family tree.
Call 1- 949-400-7630 and get started.